OCIE® Enterprise Content Management Solutions
Improve Workflow Performance, Solve Processing Issues, Increase Employee Productivity and Company Profitability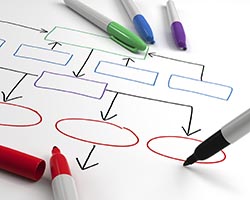 OCIE by Donnell is the best ECM product on the market for flexible and comprehensive archival, retrieval, data extraction and reporting needs empowering users with the tools they need to grow and evolve their business without heavy reliance on IT.
OCIE is known for…
Ease of use, quality of design, speed and accuracy.
Efficient use of archived reports for data extraction and analysis.
EOB processing and automated payment posting in healthcare.
Alternative report processing solutions in mortgage servicing.
Turnover package solutions in pharmaceutical and biomedical
Process automation and workflow improvement
Automate routine tasks in manufacturing
Complete archive solution for all transactions between lender, borrower and vendor for highly-regulated organizations when a complete audit trail is needed for regulatory compliance.
OCIE is designed to give you what you what you need today and evolve with you over time.
What We're Hearing…
"Now, with OCIE and DataDigger, I get done within a day and still have time to do other things. OCIE is a tremendous speed enhancement — it just makes my day a lot easier. It's super fast."
- Bill Norton, Systems Analyst
Enterprise-caliber tools designed to assist with:
Regulatory Compliance and Audit Trail


Use OCIE to meet the demands of regulatory compliance requirement by providing your organization with a complete and centralized audit trail of all servicer, borrower and vendor interactions and records. OCIE easily manages the retention of information according to pre-defined rules and reduces costs associated with auditing.
Automated Data Extraction Services


OCIE provides users with the ability to automatically extract vital data elements from reports; even multi-line, complicated MSP reports, in a format that can be used to populate spreadsheets, databases or data warehouses. Generate output in various file types, such as delimited text, CSV and Excel. Reduce dependency on other costly extraction tools and data feed sources.
Enhanced Information Processing Services


OCIE offers a number of robust report processing services to expedite access to information. Use OCIE to electronically burst reports into individual, secure reports based on specific report values. Isolate and retrieve reports/documents or sections of a report based on specific individual or department requirements.
Legacy Decommission & Support Services


OCIE helps customers across the United States cost effectively migrate to new technologies while extending the lifecycle of their legacy system. OCIE provides support for legacy systems before, during and after a decommission.
Loan Data Migration Support


Data migration is almost half the effort in any new application project. Whether you're implementing an entirely new enterprise application or consolidating, upgrading, or modernizing an existing one, a strong focus on data migration is essential to your overall project success. OCIE reduces time and effort considerably by automating migration processes and data validation.
MSP Information Archive


OCIE can accept reports from any source, in any format, for distribution (internal or external) and long-term, secure archival. OCIE accelerates information sharing through a platform independent, network-centric architecture.
DataStore Solution


OCIE's DataStore solution holds extracts from reports and other sources over time. Data is stored in SQL tables and enables users to perform queries using their own report writes and/or BI tools.
Document Management & Workflow


OCIE provides clients with a comprehensive document management system with extensive meta-data and auto-indexing capabilities. Use OCIE to consolidate your organization's vital documents and make it easier to find information in a timely manner. Using OCIE to electronically route documents through a work process eliminates redundancy and paper with an air-tight audit trail.
Custom Application Development


OCIE developers can and have developed customized solutions for customers to meet specific needs of their organizations. Having experience to develop projects in multiple industries, enables our staff to efficiently develop the perfect solution. Our experience across industry markets is a strength, helping us to add value to your existing process improvement ideas.