Do You Struggle with Data, Content, Information, Document Overload?
OCIE® Solutions manage the blizzard of information an organization faces daily and streamlines workflow, solves processing issues, and increase productivity and profitability in highly-regulated industries.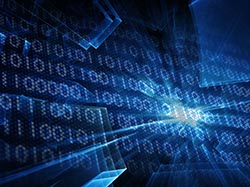 Knowledge workers today are literally snowed under with computer and paper-based information. The problem is universal because most organizations support a broad range of production applications while power-users create and distribute even more information with spreadsheet, word processing, and other desktop productivity tools. It is the rare occasion when the information needed to perform a particular task is limited to a few applications or sources. Meanwhile, customers, vendors, regulators, and other external partners contribute even more information. And then there is e-mail. This blizzard of information is important because it pertains to processes and communications to which your organization is held accountable. This is fixed content. It is everywhere.
The notion of fixed content is certainly not new. Fixed content is read-only, static data that represents an information snap-shot at a given point in time. Across every industry the term "fixed content" applies to business intelligence, reports, records, forms, audit trails, documents and files that, by procedural design, are published once and only changed through an audit-able process that creates an update to the original. Accounting, legal, and management professionals demand fixed content for audits, evidence, operations, tax and regulatory purposes.
Traditional methods of distribution and archive have transformed this mass of information into an unmanageable blizzard. E-mail attachments compound the problem and create security and disk management issues. Vital information gets scattered out on desktops, notebooks, and network servers, increasing risk and diminishing control.
Battle the information blizzard with a highly developed solution from a forward-thinking team. Equip your organization with OCIE Fixed Content Information Management from Donnell Systems.
Learn how OCIE can help your organization today!
Contact an OCIE representative to schedule your FREE consultation.