Don't Be Caught Off Guard When Disaster Strikes
OCIE keeps your critical content and business safe and is readily available when your organization needs it most.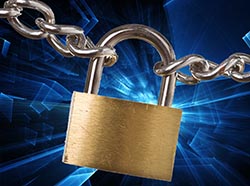 As more and more business owners consider the value of their disaster recovery and data protection strategy, studies have found that they may be as little as one major data loss away from closing their doors forever. Protecting business-critical digital information such as financial reports, business documents, contact lists, transaction histories, spreadsheets, files and more could mean the difference in keeping those doors open when disaster strikes. Advanced tools like OCIE, provide those capabilities and more necessary to drive efficient and accurate loss prevention initiatives.
There are many companies that claim to provide protection services in the cloud but not all cloud protection services are alike. Your business cannot wait until a major data loss to discover that your protection service provider cannot restore your business-critical data or files. You need a protection service that has a long history of trusted service to highly-regulated industries and understands regulatory compliance, rules and procedures, security at all levels, and workflow performance. OCIE is a business-class remote digital content protection service that is trusted throughout industries like mortgage servicing, healthcare, financial, government and manufacturing to collect, archive, secure and deliver their information with efficiency and speed.
How can you tell if your cloud protection is really "business class":
Fast collection and delivery. Unrestricted Internet pipeline to ensure quick, efficient and secure data transmissions for all business clients.
Security is highest priority. Security is an essential component of every facet of service collection and delivery.
Multi-tiered monitoring and reporting. Experienced IT personnel diligently monitors and manages system.
Quality customer service. Response by experts in protecting your business-critical digital content.
24/7/365 Availability. Emergency support that is responsive, experienced and professional.
Regulatory compliant. Experience in supporting regulatory compliance standards.
Certified and trusted. SOCII compliant.
Content always ready. Your content is always ready when you are and you never have to wait to have access.
Protecting your company's business-critical digital content is vital to keeping you productive and competitive in the industry. OCIE Protection Services takes a holistic approach to addressing the entire spectrum of information archiving and recovery concerns. We offer managed software and hardware options that impact operations for businesses of all sizes across a multitude of highly-regulated industries.
Clearly, recovering your digital content is critical for your organization to remain solvent and healthy. We know that a well-designed and implemented archive strategy is critical to the success of data recovery in the event of unexpected occurrences. Your organization needs to be confident that its disaster recovery and data protection strategy is rock-solid. Putting your trust in OCIE's trusted business-critical information protection service will ensure that confidence. Don't be caught off guard, be ready and protected by OCIE. Join the many customers that we have assisted over the years to take advantage of our expertise and experience. Contact OCIE to learn how we can provide confidence in your data protection strategy.