OCIE® Subscription Service (OSS)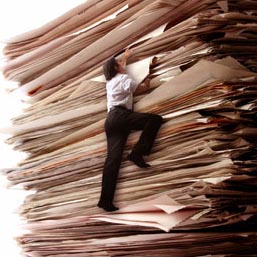 OCIE Subscription Service (OSS) will safeguard your information and help you avoid the technology risk and steep costs of staff, equipment, and upgrades. OSS customers focus on saving time, effort, and money; OCIE concentrates on 7/24 operations and continual software support while defending and enforcing customer's internal and external policies.
In 1994, Donnell Systems instituted the vision of "software-as-a-service." OCIE was furnished as an application service long before "ASP" or "SaaS" became industry acronyms. The OSS option is an attractive alternative for organizations that have higher priorities for their resources than deploying an enterprise-wide, fixed content information management solution. OSS is also ideal for those who prefer to avoid up-front investment or ongoing technology risk. OSS customers enjoy additional peace-of-mind knowing they will receive a periodic technology refresh and ongoing conversion of their backups on legal archive media.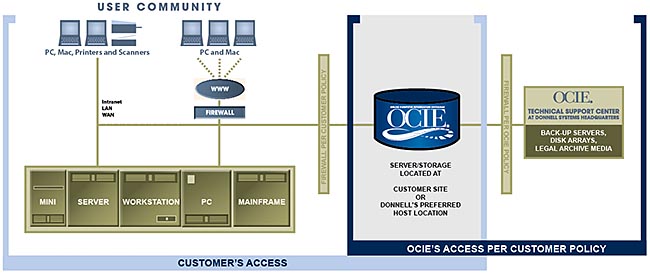 The OCIE system physical assets, server and storage, may be situated within the customer's data center, their preferred hosting location or at Donnell's world-class data center and preferred hosting location. Donnell provides system admin and daily operations on a remote basis.
Through the OCIE service, the following is provided:
System hardware (server and storage)
Remote system administration and daily operations
O/S and application software upgrades
Hardware upgrades, technology refresh
Hardware and software maintenance
Disaster recovery backups
Off-site storage on legal archive media
Ongoing conversion of legal archive media
Just a few Donnell Systems world-class data center highlights:
Environmental Controls - Geographic Diversity/Redundancy via Other Peak 10 Data Centers
Compliance - SSAE 16 (formerly SAS 70) and Tier III Design Certified
Power Infrastructure - Backup generators and Multiple UPSes to Condition and Deliver Battery Protected Power
Security Features - Biometric Fingerprint Readers and Biometric Screening
Internet Access and Options - Dozens of telecommunication carriers including: AboveNet, AT&T, Level 3, Qwest and TeliaSonera
Learn how OCIE can help your organization today!
Contact an OCIE representative to schedule your FREE consultation.