Do You Have Workflow Processes That Might Be Costing Your Business Valuable Time and Money?
OCIE® Solutions provide rock-solid tools and methodology to solve workflow performance issues and increase productivity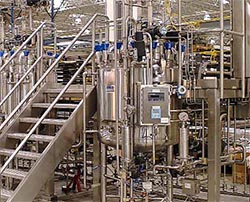 Once-thriving manufacturers are now plagued by shrinking profit margins, intensifying competitive pressures, and buyers who have fewer dollars to spend. At the same time, internal operations and external supply-chain activities have become more complex, making them much harder to streamline, track, and control. As a result, companies in the manufacturing industry must find new ways to optimize productivity, improve customer service, expand market share, increase revenue, and minimize expenses.
OCIE's disciplined approach to information management is built upon a core foundation of security and provides the basis for our solution: Enterprise Information and Records Management, Workflow Improvement, Integrated Report Generation and Document Archive and Retrieval, and Data Extraction and Transformation. By incorporating each element into your organization, users gain the tools to create ad-hoc reporting and workflows to ensure fast access to information, while satisfying mandates for compliance, security, audit control, process modernization, and operational cost savings.
As a result, users have unprecedented power to utilize their information for operational improvements, new reports, better workflow, cross platform and cross application information consolidation. The ability to get multiple disparate systems to talk to one another and the ability to take information from one system, extract data elements to be put into transactions for another system. While the organization enjoys operational cost savings, dramatic efficiencies, and peak effectiveness. New users remark how quickly they learn to use OCIE, how easy it is to search, retrieve information and work more productively. The OCIE user interface even adapts to the way specific departments, and individuals within those departments, like to work.
Learn how OCIE can help your organization today!
Contact an OCIE representative to schedule your FREE consultation or call 800-232-3776 for immediate assistance.
Click the button below to learn how OCIE Solutions helped Duncan Systems with their workflow and information management needs.