Legacy Maintenance and Conversion Support
OCIE® supports legacy systems before, during and after conversion in four areas…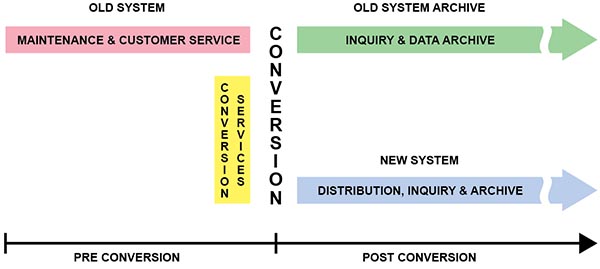 As information technology systems continue to grow and evolve, so too do the number of legacy conversion projects. Advances in software and hardware technology along with newly developed standards make it important for businesses to keep their systems updated. If a legacy system can no longer conform or comply with new standards, it will become a hindrance to the business.
OCIE offers four services that can be purchased separately to implement a successful legacy conversion project:
1. Legacy System Maintenance Prior to Conversion
OCIE will provide 100% of the legacy system maintenance prior to conversion. OCIE will support the application with IT staff thereby freeing up client IT to work on the new system.
2. Services at Conversion
OCIE is ideal to hold and compare test outputs and to balance old to new systems. Data extraction from the information output is "normalized" for users, tested, used in system balancing and audited for accuracy.
3. Post Conversion Legacy Inquiry and Archive Services
OCIE archives all information from the legacy system allowing decommissioning shortly after conversion. Verifiable, accurate information is easy to access as needed for use in auditing, litigation, etc…
4. New System Distribution Inquiry and Archive Services
OCIE distributes and archives information from the new system. This information is then available for consolidation with other systems and creates an easy to use information "warehouse".
Benefits of Legacy System Support Service:
Free up current IT staff to focus on new system.
Reduce the cost of supporting legacy systems.
Increase efficiencies in accessing critical information for the users.
All information is indexed, archived and verifiable for audit and litigation purposes.
Provides value whether you use our services before, during and/or after conversion.
All valuable information collected, archived, indexed in OCIE.
Equips users with a tool to maximize access to information in order to make effective business decisions.
OCIE archives verifiable information from new systems
Learn how OCIE can help your organization today!
Contact an OCIE representative to schedule your FREE consultation.