Would You Like to Become An OCIE® Technology Partner?
OCIE Solutions help businesses with many different workflow processes and information management needs. We would like to learn more about your company and how we might be able to work together to deliver even more value to mutual customers.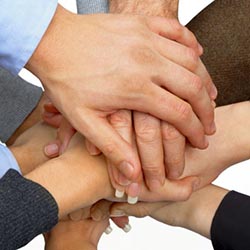 Become a Technology Partner
In today's extremely fast moving environment, companies need allies like themselves who are focused on mutual goals and direction.
By entering the OCIE Technology Partner Program, your company will have access to tools and benefits that are aimed at increasing the breadth of your offerings and deliver the ability to promote your technology to a global community of developers and partners. You will also have access to OCIE's rapid application, Web and Java tool sets.
Who are OCIE Technology Partners?
OCIE Technology Partners are developers and organizations who develop and sell tools, components, and libraries that add value to the OCIE family of developer products, and who actively market their products through trade advertising and the World Wide Web. Visibility on the OCIE Web site as a Technology Partner encourages visitors to work with you to employ information archiving, data mining and extraction and document management, in their solutions.
Key Benefits
Ready access to evaluate and test your technologies with OCIE's market-leading products.
Access to technical knowledgebase's support services, and essential marketing and sales toolkits.
Ability to promote your technologies and services to a global community of developers and partners.
Access to final OCIE products you support.
Technology Partner Program Membership Criteria
Partners need to develop and sell tools, components, and libraries that add value to the OCIE family of products.
Support the latest versions of OCIE products.
Maintain a Web site.
Host a website hot link to www.ocie.net
Place OCIE product logos on Web sites, product boxes, advertisements, etc.
Mention support for OCIE in product literature and press releases.
Provide OCIE with a copy of all product literature, press releases and advertisements.
Provide OCIE with a library copy of all supporting product versions upon request.
Get started today!
Whether you need help with regulatory compliance or want to boost employee productivity, OCIE by Donnell Systems, Inc. is the best choice in content management solutions.
Click here to contact Donnell Systems, Inc. to setup a free consultation with our content management specialists.