Interested in Saving Your Organization Resources By Changing to Paperless Accounting?
A Paperless Accounting System Does NOT Make Your Accounting Department Paperless … But OCIE® Can!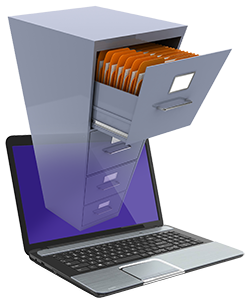 We understand that you may have activated paperless-like functionality within your corporate accounting system today. You may have even gone as far as implementing digital scanning of external paper sources and storing them on a network or internal file system. However, these solutions fall short of being effective, are error-prone and labor intensive to manage and support daily.
Integrating OCIE into your current business workflow will enable you to electronically route documents through a process without having to print or photo-copy supporting documentation. OCIE's data extraction capabilities enable your organization to streamline business processes such as purchasing and vendor invoice approval, data entry, and matching inventory related items by extracting and transforming necessary data. With OCIE, you can save time by creating a secure online system for vendors to electronically submit information, such as orders and invoices, to your organization for faster processing and archive.
OCIE provides document management and helps create efficiencies within your accounting department by uploading, automatically indexing, and storing information in a secure, central repository that allows users to find a report or document with as little as one keyword of text. With OCIE you have a valuable research tool that combines the strength of a centralized online repository with the flexibility to incorporate workflow and business process automation.
Learn how OCIE can help your organization today!
Contact an OCIE representative to schedule your FREE consultation or call 800-232-3776 for immediate assistance.
Click the button below to also learn how OCIE Solutions helps with other automation and processing needs making their organization more productive and profitable.
Here are a few more ways in which your Accounting department can use OCIE:
Automatically upload, index, and store accounting reports, statements and documents electronically – eliminate or reduce the need for paper to enter your organization and provide immediate, secure access by authorized users – anytime, anywhere.
Automatically route documents electronically in accordance to your pre-defined business processes. Enhance this process further by using OCIE's data extraction capabilities to streamline manual business processes such as purchase order and invoice data entry.
Create a valuable accounting research tool and provide full visibility to all internal and external documents, such as purchase orders, receiving documents, and invoices.
Provide vendor and customer access to electronic invoice and document history stored in the archive – create an "information pull" environment and eliminate the need to send and resend hard-copy documents.
Reduce or eliminate costly printing, sorting, mailing and filing of customer invoices and statements.
Provide security and control over your accounting information – store your information in a secure electronic storage environment instead of multiple offices, file cabinets, and storage sites
Use OCIE in other areas within your organization; such as Human Resource Departments which are often swimming with paper from employee reviews and resumes to I9's and W2's.